Research Publication
PEOPLE MANAGEMENT CHALLENGES FOR SMES IN FIVE EUROPEAN REGIONS
A collaborative cross-regional research publication which involved the collection of primary data where the partner universities research strengths and competencies are put to good application to generate new insights, knowledge and comparative analysis in order to contribute to closing the gaps in the HRM for SMEs fields.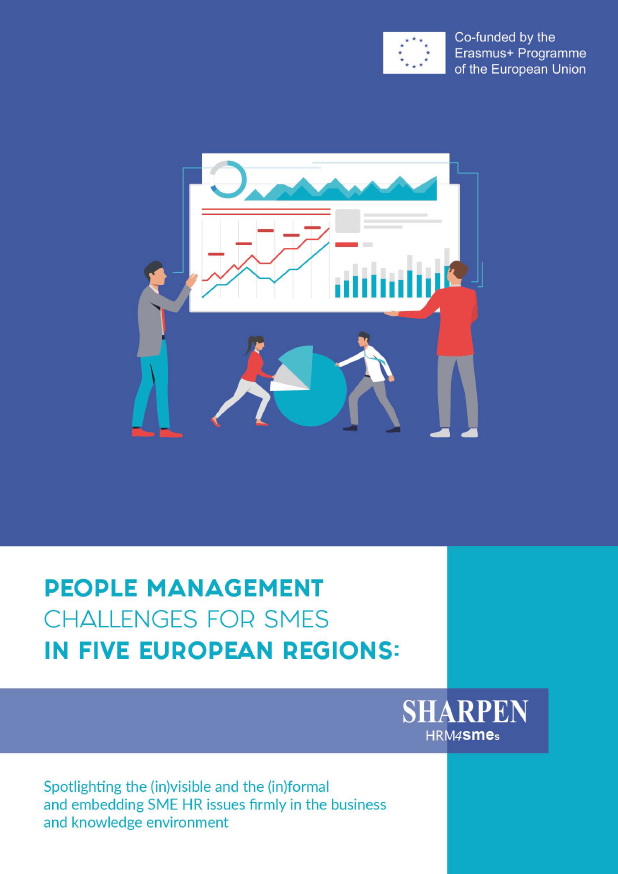 PEOPLE MANAGEMENT CHALLENGES FOR SMES IN FIVE EUROPEAN REGIONS
The aim of this publication is to analyse the processes in the area of human
resource management based on the obtained primary data, to bring the main
findings in HR for SMEs and to define the challenges, which are then addressed
by other SHARPEN project outputs. Results confirmed that the approach to HRM
in SMEs is rather informal, provided not only by an HR specialist, but also by
the owner or other managers. The results also confirmed considerable variability
in the approach to human resource management across countries and SMEs.
Often the tools used in individual HR activities differ (e.g. intensity of social
networking in recruitment). On the other hand, SMEs across these regions have shown
very similar challenges they face today. Trying to retain high-quality employees
or attract new generation is a pressing issue for all SMEs. The revelation of these topics and
the setting up of international and regional cooperation gives space for further exploration
and production of outputs for academia and business practice.
English version:  https://sharpen.ef.tul.cz/upload/PublicationHRMinSMEs_research.pdf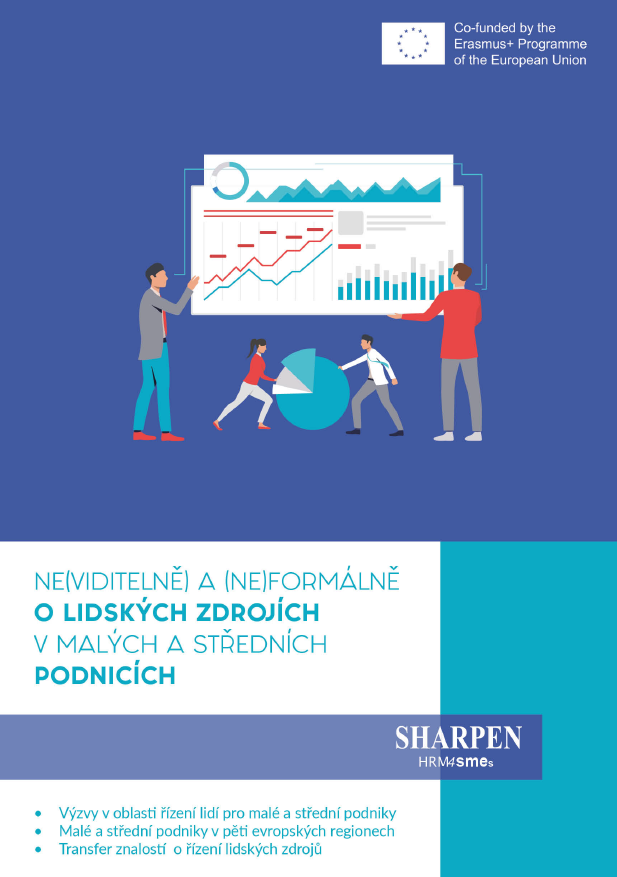 (NE)VIDITELNĚ A (NE)FORMÁLNĚ O LIDSKÝCH ZDROJÍCH V MALÝCH A STŘEDNÍCH PODNICÍCH
Cílem této publikace je analyzovat procesy v oblasti řízení lidských zdrojů na základě
získaných primárních dat, přinést hlavní výsledky a zjištění v oblasti lidských zdrojů
pro malé a střední podniky a definovat výzvy, které pak řeší další výstupy projektu SHARPEN.
Výsledky potvrdily, že přístup k řízení lidských zdrojů v malých a středních podnicích
je spíše neformální a zajišťovaný nejen odborníkem v oblasti lidských zdrojů, ale také
vlastníkem nebo jinými manažery. Výsledky rovněž potvrdily značnou variabilitu
v přístupu k řízení lidských zdrojů napříč zeměmi a mezi malými a středními podniky.
Nástroje používané v jednotlivých činnostech ŘZL se často liší (např. intenzita využívání
sociálních sítí při náboru). Na druhé straně malé a střední podniky v těchto regionech
vykazovaly velmi podobné výzvy, kterým dnes čelí. Snaha o udržení kvalitních zaměstnanců
nebo přilákání nové generace je naléhavou otázkou pro všechny malé a střední podniky.
Česká verze:  https://sharpen.ef.tul.cz/upload/PublikaceHRvMSP_vyzkum.pdf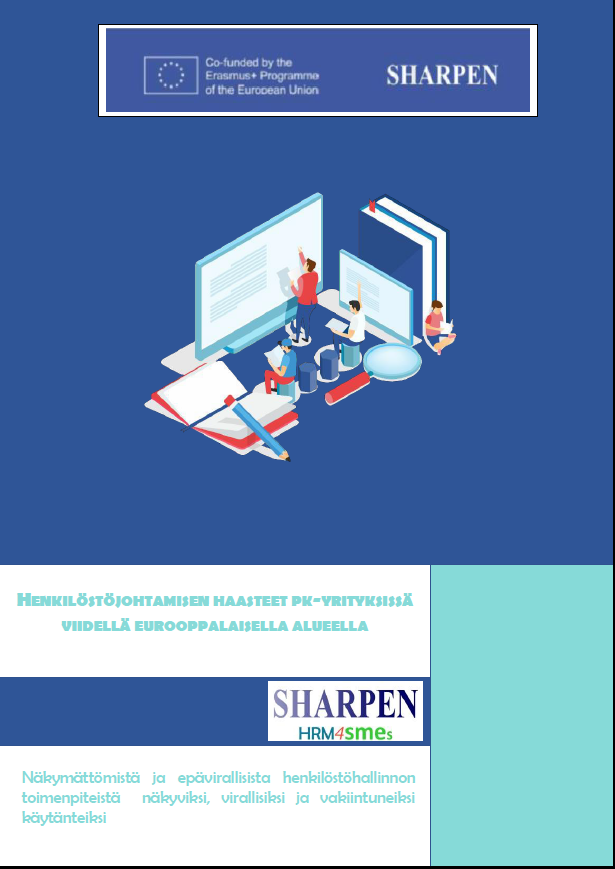 HENKILÖSTÖJOHTAMISEN HAASTEET PK-YRITYKSISSÄ VIIDELLÄ EUROOPPALAISELLA ALUEELLA
Research in Finnish language:  https://sharpen.ef.tul.cz/upload/PublicationHRMinSMEs_research_FIN.pdf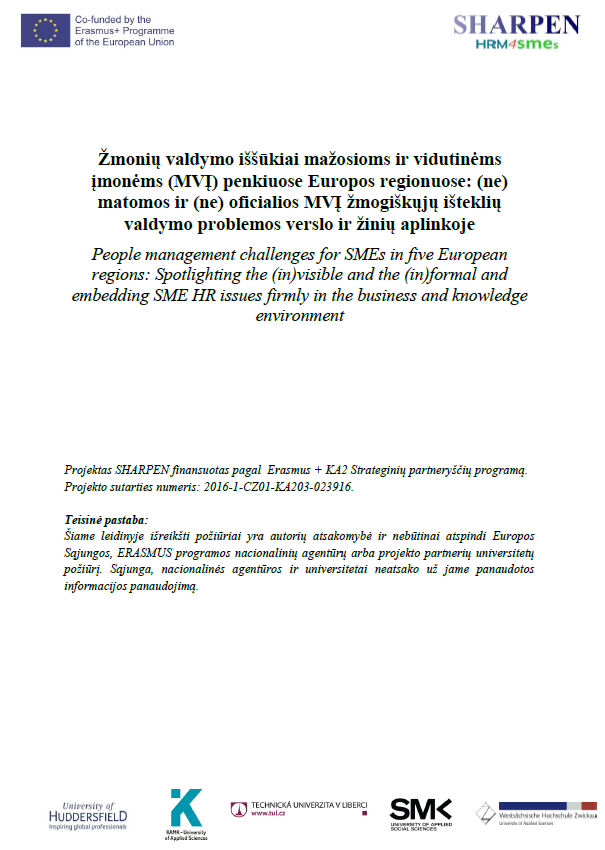 Žmoniu valdymo iššukiai mažosioms ir vidutinems imonems (MVI) penkiuose Europos regionuose
Research in Lithuanian language:  https://sharpen.ef.tul.cz/upload/PublicationHRMinSMEs_research_LIT.pdf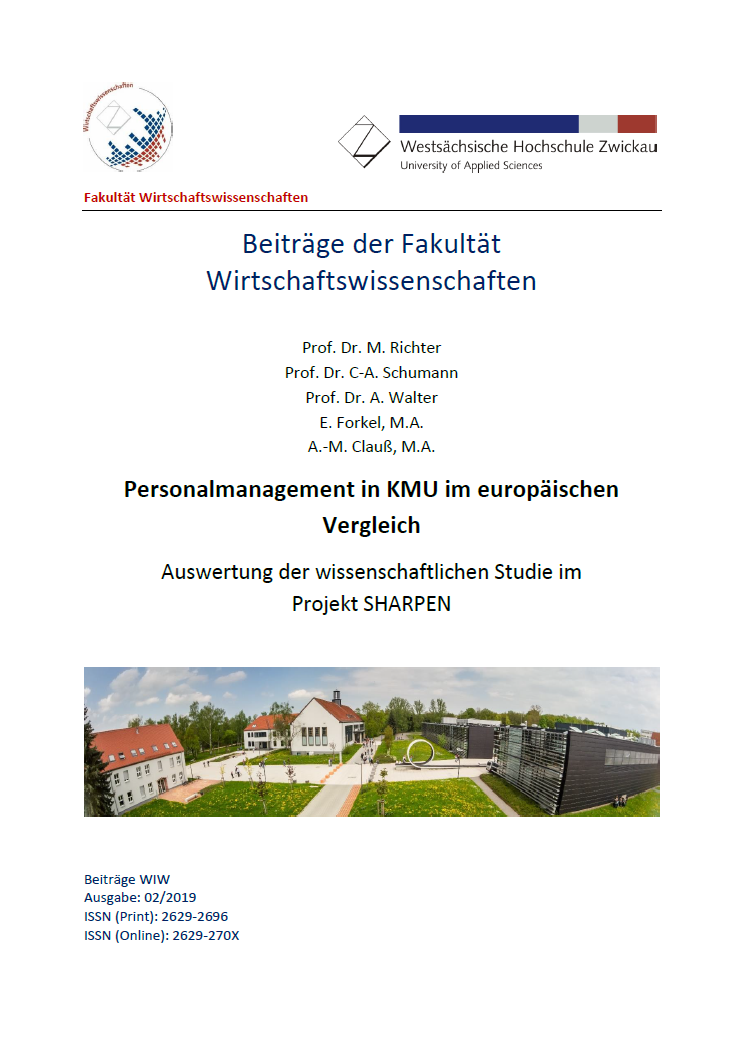 Personalmanagement in KMU im europäischen Vergleich
Research in German language:  https://sharpen.ef.tul.cz/upload/PublicationHRMinSMEs_research_GER.pdf